Dentures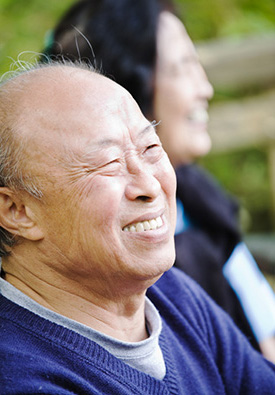 Without teeth it's hard to smile–or appreciate Dr. McIff's jokes. At our practice, we offer dentures and partial dentures for our patients who have lost all or most of their teeth. Dentures are mouth apparatuses made up of artificial teeth that can be directly inserted into a toothless patient's mouth. Traditional dentures and implant supported dentures are both available at our practice.
Traditional dentures are removable mouthpieces that allow a patient who has lost all of his or her teeth to enjoy talking and eating again. Our traditional dentures are specially crafted so that our patients can enjoy a crystal clear occlusion. They are made from a mold of the patient's natural teeth to perfectly mimic the shape and quality of each tooth.
At our practice, we also offer implant-supported dentures. Implant-supported dentures use around four dental implants. Once the implants are installed and the area around the implants has healed, Dr. McIff will attach the dentures to the dental implants to give them a more secure place in your mouth. Implant-supported dentures are more comfortable and don't move as much when you chew. Even though implant-supported dentures are more secure, they can still be removed. Our implant-supported dentures are beautiful restorations that look and function just like your natural teeth. You can get your smile back.
Dr. McIff will do anything in his power to help his patients enjoy life to the fullest extent. The next time he jokes with you, he wants you to have every reason to laugh back. With either traditional or implant-supported dentures, Dr. McIff can restore your beautiful smile.
For more information, or to schedule an appointment, please call our office today.