Dental Veneers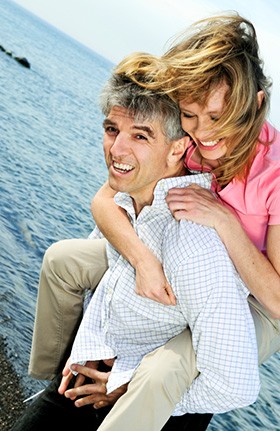 With our dental veneers, you can give your teeth a complete smile makeover. Dental veneers are thin shells of tooth-like material that can be placed directly over your teeth to change their appearance. Our dental veneers are a very versatile cosmetic dentistry procedure that can get you the smile you've always wanted. Dental veneers can fix chips, gaps, cracks, and other tooth deformities. They can also be used to make your teeth look straighter without braces, and whiter without a tooth whitening treatment.
The Benefits of Dental Veneers:
Our dental veneers are made from a fine porcelain that perfectly mimics the color and translucence of your natural teeth. People won't be able to tell that you are wearing veneers.
Dental veneers are easy to care for. They can be flossed and brushed just like your regular teeth.
Our porcelain veneers are crafted individually and can be used to accomplish multiple purposes. No matter what your smile goals are, you can use dental veneers to accomplish them.
With veneers, you can literally reshape your teeth and give yourself the perfect celebrity smile you've always wanted. Our porcelain veneers boost confidence and self esteem. We love that we can use veneers to help patients who have suffered from natural defects or damage to smile comfortably again.
The procedure for dental veneers can be done in a few appointments. Before the procedure, Dr. McIff will meet with you to discuss your needs and how veneers can be used to accomplish them. The two of you will figure out how many veneers will be needed and will schedule your first appointment.
First Dr. McIff will prep your teeth for the veneers. A small amount of the tooth will have to be filed to make room for the veneer on your tooth's surface.
Once the tooth is prepped, Dr. McIff will place a temporary veneer while your permanent porcelain veneers are being crafted.
At your next appointment, Dr. McIff will remove the temporary veneers and adhere the permanent veneers to your teeth.
You will be able to enjoy, a confident, beautiful, comfortable smile.
To find out more about our porcelain veneers, call us at our office with any questions or to schedule an appointment.