Dental Implants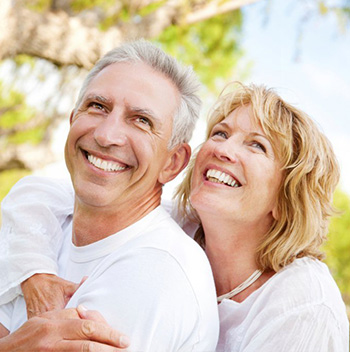 A dental implant is an artificial tooth root made out of a state-of-the-art titanium alloy. The titanium fuses with the bone just like a regular tooth root and keeps your jaw healthy and strong. When you've lost a tooth, the jawbone underneath can start to deteriorate. Unlike other restorative options, a dental implant stops that deterioration from happening. With a dental implant you can enjoy a healthy, strong, smile.
The dental implant procedure is simple:
First, you will be referred to a specialist who can perform the implant dentistry service.
The implants will be inserted directly into your gums where the natural tooth was lost.
Over the next couple months the wounds in your mouth will heal and your titanium dental implant will start fusing with the bone in your jaw.
When the bone is fully integrated and your mouth is healed, your dentist will attach the abutment and the crown.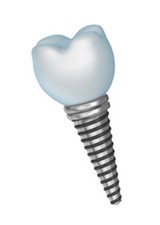 Implants are very durable and long lasting. With proper dental care, your implant can last you the rest of your lifetime. Unfortunately, sometimes accidents happen. The crown attached to the implant or the implant itself can become damaged and cause a patient serious discomfort. At our practice, Dr. McIff can restore your implants. His implant restorations are done with caring, compassion, and thorough attention to detail. Even if your implant has suffered serious damage in the past, you can get that implant restored in our office.
If you are considering a dental implant procedure, talk to Dr. McIff first to find out if the procedure is right for you. He can check up on you and make sure that you find the best specialist for the surgery. Dr. McIff cares about his patients and wants them to live a long happy life with high quality oral care.
To find out more about our implants and to determine whether implant dentistry is right for you, please call our office today.